College Credit Available
T
he Annual Drug and Alcohol Institute is a required course for students at WNMU majoring in
Chemical Dependency Studies.
Students needing college credit can register at WNMU for three hours at the 400 or 500 level in Criminal Justice or Psychology. You can contact the Institute faculty sponsor, with questions, or register and meet with him when you arrive. You must attend the entire Institute, and complete additional reading and writing assignments as required by the college.
Continuing Education Credit
For those not needing college credits, there will be 25-32 CEU's of National Board of Certified Counselor Credits (NBCC). These CEU's are accepted by the New Mexico Counseling and Therapy Practice Board for all licenses issued including LPC, LADAC, and LSAA.
Lodging will not be provided on the campus, you can find local comfortable and affordable lodging in Silver City using the link below. Local camping is also available, but we will have to check on the forest closings closer to the event due to the fire conditions.
Attire
WNMU is located near the Gila Wilderness. The Institute falls during what the locals call the "monsoon" season. This means that we expect heavy rainfall every afternoon. You may wish to bring a hat and especially a jacket or other rain gear that will help you cope with the smashing deluge of rain that may arrive. Business and "professional" clothing are strictly prohibited during the Institute. Persons entering with ties, dress shoes, suits or any other type of clothing that reminds us of being at the office will be asked to come back in leisure clothing. Presenters are expected to dress casually as well. For many of us, this our vacation and our only time to visit with long time friends we have not seen since last year. We are here to relax and replenish ourselves. There are special recommendations for the mask workshop, the Gila Cliff Dwellings hike, and the Picnic.
Standard Program Components
Although the theme and special topics change yearly, there are standard components that are included each year to meet the ongoing training needs of practicing counselors.
Ethics
Mask Making
Traditional Healing
Licensure Test Preparation
Assistance with Licensure/Certification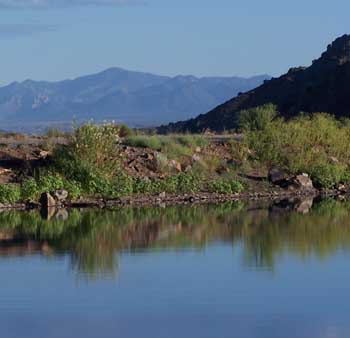 Special Events
Find our more about Silver City at the Chamber of Commerce Web-site. Activities, Events, Art, Recreation and Lodging.
Questions & Problems call Jennifer Cady at::